Colloquialisms have been around since the dawn of time: I need a 'Hunter' (one who thrills at the chase, isn't afraid to push for the order, etc), or I need a 'Farmer' (one more motivated by nurturing relationships) are probably the two most common variants I hear.
But the world's changing at a blistering pace. Customers and prospects have access to vast amounts of information online. They can comparison shop your products' features and benefits against your competitors' in a heartbeat. They have less time than ever to engage in the sales process with you, and they are tougher and more demanding of the people calling on them.
Matthew Dixon and Brent Adamson conducted research on behalf of CEB and published their findings in a book, The Challenger Sale: Taking Control of the Customer Conversation. It's one of the best reads on the subject of selling (particularly business-to-business 'solution sales') this decade.
According to their research, Sales Reps essentially fall into five categories:
Different types of sales roles require different types of sales people in them.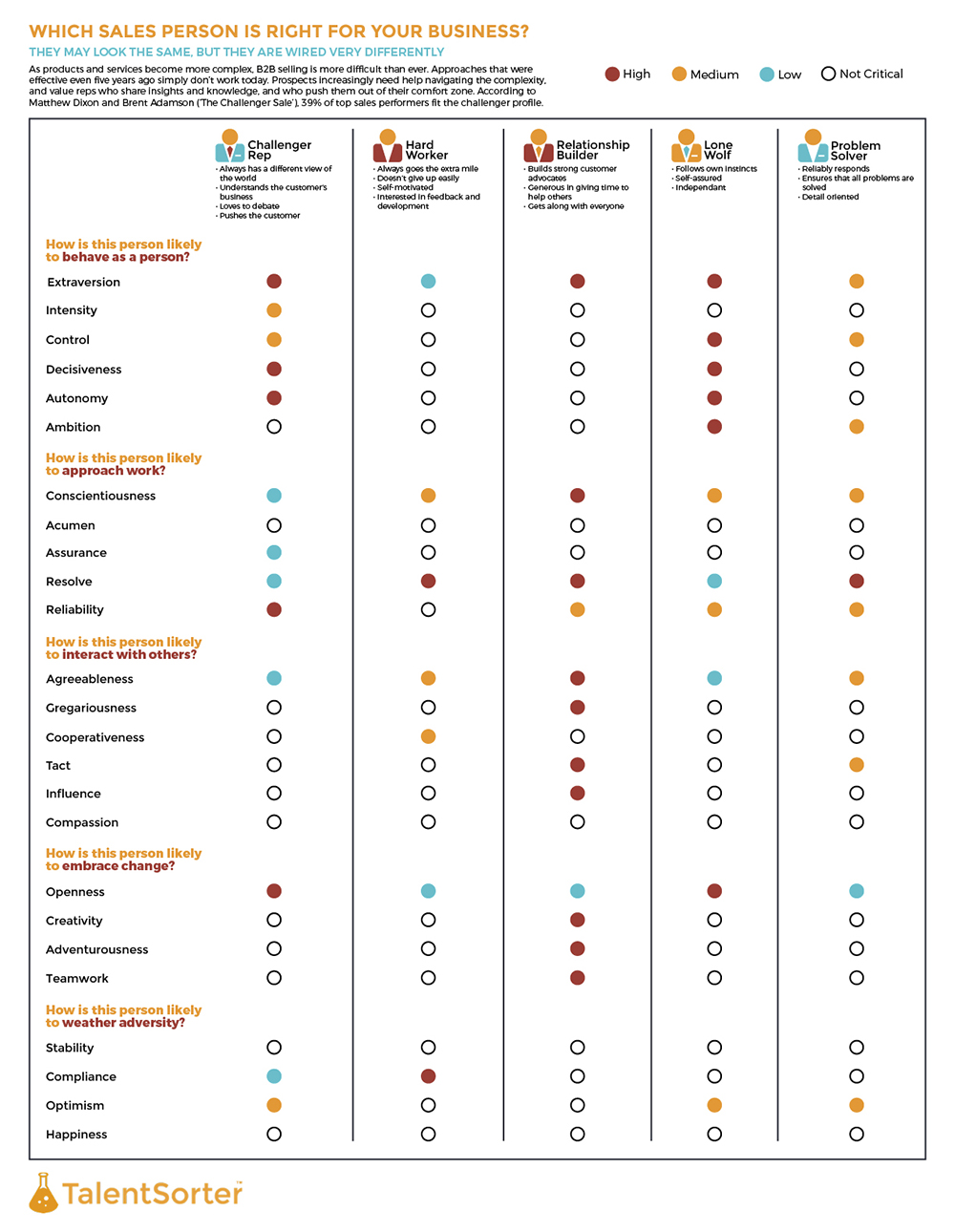 If you are B2B and you have a product or service offering that requires a complex, consultative sales process, the research bears out that you would be better off with a sales team that is naturally 'wired' to display Challenger behaviors – Challengers make up 40% of the best-selling reps. Some of the techniques can be taught, to be certain, but the training is more likely to 'stick' and be used by someone who has a natural inclination towards that style.
Other roles in your Sales team may be better filled by skilled Problem Solvers or Relationship Builders… but the challenge isn't so much in understanding the role and what's required of the person in it; it's in understanding the natural inclination of the individuals currently on your team or whom you are considering hiring.
Interested in knowing who's who in your existing team? Are you currently recruiting Sales Reps?
Click here if you'd like us to save you a lot of time and trial-and-error by pointing out the applicants who are most likely to be Challengers… you won't be able to tell from the résumé.